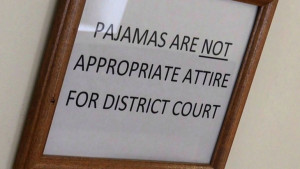 If you are reading this, you likely have an upcoming court date and aren't sure how things work – including what to wear.
Different courts have different rules, but across the board, it is important to dress appropriately and in a way that indicates your respect for the court.  If you are not attired properly, the bailiff (the court officer) could ask you to leave the courtroom until you have corrected your clothing issue. For example, in most courts, you are not allowed to wear hats, halter tops, midriff shirts, untucked shirts, low hanging pants or other attire that shows too much skin or is otherwise too casual for the courtroom.
A Clerk of Court in Pennsylvania recently had signs posted in the court room indicating that pajamas are not appropriate court attire.  Really!  Pajamas!  You would think that would be an obvious "what not to wear" but clearly, in that courtroom, it had happened one too many times.
So, what do you wear? A suit is nice.  But if you wear one or not, always be tidy and presentable. Men can safely dress in slacks and a button down shirt. Ladies can wear the same or a skirt (make sure it is knee length or just above – no mini-skirts, please) and low-heeled shoes.
Again, the overall tone is to show the court respect both by your actions and your attire.   Just keep the pajamas at home and you should be fine.
See the no-pajama article by clicking here.